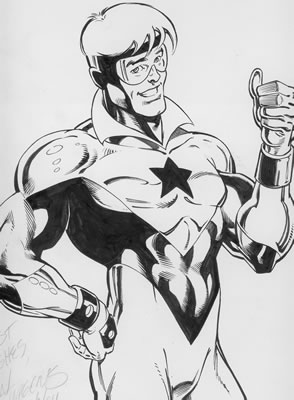 Okay, so I lied about Hawkgirl being the last comic character. I think Booster Gold might be it, but I'm sure there will be surprises ahead when we find out more AndrewApproved characters from comicdom.
"I used to wear yellow sometimes to pretend I was Booster," recalls Andrew. "Once, I turned to Jen and called her Skeets… she was not amused." When asked about Andrew's obsessions, Jen tells us of a particularly memorable situation. "Once, he got confused and put on these angel wings like the kind you see Victoria Secret models wear, and he put on Booster Gold yellow and was some kind of crazy spawn child of Booster and Hawkgirl. It was quite disturbing. He ran around trying to give Keith a kiss while calling him 'GL' and kept on yelling at this yellow cereal bowl we had… I think he was singing lyrics to Get Low by Lil' Jon & the Eastside Boyz or something."
Booster Gold is considered to be dead in current D.C. continuum. "I sat in a corner of my room for days with the Skeets bowl on my head," Andrew sobs.